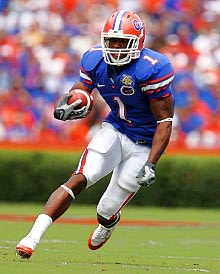 First I want to mention that in a report by ralph Vacchiano, it says that the Brows intial demans were Mathias Kiwanuka AND the G-men's first round pick.
Which is insane.
I recently discussed trading Kiwanuka for Braylon Edwards straight up (which you can find by scrolling down,)
Now that idea I like. I think we can replace Kiwanuka, but for Kiwianuka AND a first round pick.
No thanks.
I'm beginning to wonder if this deal will ever happen.
Jerry Reese has a strong background in scouting, and he really trusts his talent evaluation, and I think the Browns have to come off their asking price IF this deal is to happen.
We'll see.
I trust Jerry Reese.
Now, onto the "Pot" luck for the Giants.
Of course what I"m talking about is the recent news that Percy Harvin has failed a drug test, it has also come out lately that Percy Harvin has some character concerns, on top of the positive test his draft stock is slipping.
I think that's great. I never wanted the Giants to spend their first round pick on Harvin, but a 2nd?
I'd be down.
First off if it's a second round pick for Harvin (we have two), then he doesn't get a ton of money up front, on top of that it's not as big of a risk because we wouldn't take a risk with the other two picks.
I think Harvin could be a very nice fit with the Giants, especially if the Giants don't get Braylon Edwards or Bodlin. If that doesn't happen that means that the Giants have a huge hole in the return game becuase Hixon will be a #1 or #2 WR and not a return man.
Harvn also fills the void Eli has had since Tiki Barber left and that's a guy who can run a good screen. We've tried it with Brandon Jacobs, but he drops the ball (pun intended) too often.
I think Percy Harvin would look nice in Big Blue.
And now with his failed drug test, it's a possiblity.
The other player that could help the Giants that failed a drug test is Brandon Tate out of North Carolina.
Tate was a rising prospect last season before he got hurt early this season. Some have speculated he might be a 2nd round pick, which is risky for a guy coming off an injury that didn't play a lot (Crabtree played through an injury for big numbers)
Now, with the failed drug test he may fall to the end of the third or even all way down into the fifth round.
At which point he'd be GREAT value for the Giants.
So are these failed drug test going to be anything good for the Giants?
I don't know.
Draft Insight.
The Draft insight I was thinking about is this:
Name the schools since 2005 (Jerry Reese full G.M) that players in the first three rounds have come from:
Last year:
Miami, U.S.C, Michigan
2007:
Texas
USC
Penn State
2006:
Boston College
Miami
Penn State
2005:
No 1st round pick
LSU
Norte Dame
What does all this mean?
It means that Jerry Reese seems to prefer players that play at big time programs early in the draft and then to take fliers on players later in the draft.
Im' not sure Kenny Britt, or Hakeem Nicks are big time programs.
And Cal Poly (Ramses Barden) certainley isn't
(Percy Harvin is) Do they buck the trend this year by selecting a player like ramses Barden or Larry Enlighsh?
Or will Jerry Reese be more interested in players like
James Lauranitis (Ohio State)
Knowshown Moreno/Chris Wells (Georgia/Ohio State)
Brian Robiskie (Ohio State)
Alex Mack (California)
Robert Ayers (Tennessee)
Clay Matthews/Brian Cushing/Rey Mualuaga (USC)
Rashard Johnson (Alabama)
I'm not sure.
Think about it though.
It does make some serious sense.
If a player is great in high school to go to a big time program, and then is productive in college at a big time program it seems to reason that they have a better shot of being good in the N.F.L.
We'll see.
That's why I'm beginning to think more and more the Giants will lean towards
James Laurianitis if he's available and go for Hakeem Nicks, Britt, Robiskie, Louis Murphy, Percy Harvin in the 2nd round.
Time will tell.