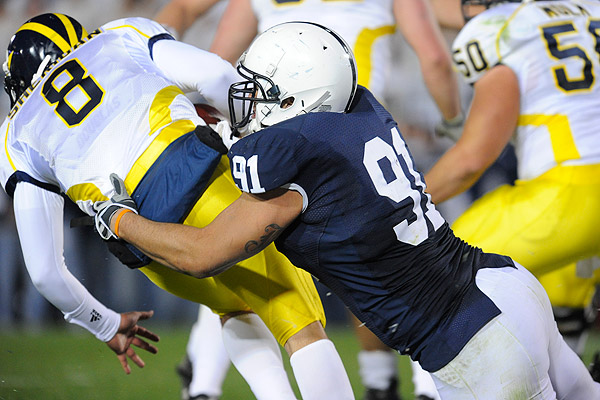 Pro Draft Party Video Highlights
Measurables (Combine Numbers When Available)

Born December 31st 1987. 6-206 pounds. Senior.
Stats
Career: 104 tackles. 14 sacks.
2009: 43 tackles (1o of which are for loss) and 6 sacks.
Big Games: 6 tackles vs Syracuse. 5 tackles 2 sacks vs Eastern Illinois. 5 tackles at Northwestern.
Vs Good Teams: vs Iowa 3 tackles,  vs Ohio State 3 tackles, at LSU 2 tackles, 1 sack.
Good and productive player, but didn't dominate vs great competition, but stats don't always tell the story especially for interior defensive linemen because Odrick was clearly one of two great college players on the Penn State defense and he saw a lot of double teams. (think about this…his productivty in 2008 let Aaron Maybin dominate last year)
Scouting Reports
ESPN Scouts Inc. (1-exceptional, 2 above average, 3 average, 4 below average, 5 marginal)
Overall Football Traits
Average in this category. Quick first step and flashes the ability to penetrate but lacks ideal closing speed and can be a step late getting to the quarterback as a result. Struggles to counter once engaged.
Production
3
2006: (12/0) 4 tackles 2007: (9/7) 16 tackles, 4 TFL, 2 sacks, 1 blocked kick 2008: (13/13) 41 tackles, 9.5 TFL, 4.5 sacks, 3 PBU, 1 FF
Height-Weight-Speed
2
Wide frame, good bulk and above-average top-end speed.
Durability
3
Broke two bones in left hand against Wisconsin only to come back a week later and dislocate his right ankle against Indiana in 2007. Missed the remainder of the 2007 season with the ankle injury.
Intangibles
4
Charged with disorderly conduct in March of 2008 after allegedly getting in a fight with three students.
Defensive Tackle specific Traits
Strength/Toughness
2
Stout and shows good strength at the point of attack. Extremely competitive and works hard to fight through blocks. However has some problems holding ground against double teams.
Quickness(hands/feet)
3
Anticipates snap count and has the quick first step to beat blockers to the point of attack. However, agility is less than ideal. Struggles to change directions and adequate at best lateral mobility. While has quick hands could improve ability to shed blocks quickly and be more productive with energy expends.
Versus the Run
3
Fires off the ball and strong initial surge. Heavy hands and can stack blockers up in one-on-one battles. However, mechanical at times and needs to do a better job of wading through traffic in pursuit.
Pass Rush Skills
3
NFL Draft Spot(as of 1/22 has him falling to the Giants in their mock)
Overview:

Jared Odrick is a player who has some mixed reviews.  I feel those who overlook him simply are missing what type of player he is.  Odrick isn't a guy you would call a dominant pass rusher, although he can get up field with ease.  You also probably won't hear him called a dominant run stuffer either.  What you have with Odrick is a well rounded player who understands and sticks to his role. He's a versatile player who could play DT in a 4-3, maybe right defensive end, or the 5 technique in a 3-4.  I can't help but see a little Justin Tuck in Odrick.

Strengths:

Jared Odrick has an excellent blend of size, athletism, and strength.  I consider him freakish for a guy that big who moves so well.  Odrick holds up blocks very well while getting a good push.  He can apply pressure on the quarterback through brut force.  He uses his hands very well and can quickly disengage from blockers and make plays.  Odrick appears to have a good football I.Q. and is a team player.  He has a relentless motor and simply wears down his opponents and comes up big in the 4th quarter.  The combination of his ability to get up field, diagnose the play, and disengage blockers really gives you his bread and butter, tackles for loss. Odrick is terrific at scrapping down the line while keeping his shoulders square. He has excellent feet and navigates through trash very well.

Weakness:

Right now the biggest knock on Odrick is probably the lack of success of late for Penn State defensive players.  Odrick at times gets penetration, but is out of control and over-runs the play.  He also will miss a sack here and there for the same reason.  He also at times takes himself out of plays by over-pursuing and or guessing.  Also falling into the  same category, he needs to learn to take better angles.  He does need to develop better pass rushing technique.  He does miss some tackles and that too comes back to being a little out of control at time.  He has had some injury issues that leave him a little inexperienced, only starting 30 games which is a little low for a four year player.

Analysis:

I consider Odrick to be the premier 3-4 DE in this class not named Ndamukong Suh.  I feel Odrick's overall game is perfect for that position.  He's not limited to just a 3-4 defense by any means, but I feel his overall value is much higher to a 3-4 team than a team with a four man front.  I expect Odrick to be a top 20 pick with the potential be a top 10 pick.  I feel as a 3-4 DE he can quickly become one of the league's best.  He should put on a show at the Senior Bowl and the NFL Scouting Combine and really open up a lot of eyes that are sleeping on him right now.
Walterfootball.com
Strengths:

Good body frame with room to bulk
Outstanding penetrator; knows how to get up the field and disrupt
Very quick; nice agility
Energizer bunny; love his motor
Very fast, strong hands
Nice balance and athleticism
Physical football player
Very active and focused on the field
Flashes great instincts
Displays some upside
Can play 3-technique; potential to play 5-technique (3-4 DE)

Weaknesses:

Inconsistent with leverage; will get too high
A little thin in upper body; must bulk up
Lacks a base
Can be run at
Struggles against bigger linemen
Has some off-field issues
Summary:

I really like Odrick as a prospect if teams view him as coachable

. If he adds some strength, he has a lot of potential as a 3-4 defensive end, or 5-technique. However, he will NOT fit every 4-3 scheme. His bread and butter is getting up the field using his quickness and hands. Teams like Buffalo, Minnesota, and Indianapolis might be interested. Odrick is a second-round prospect, but a darkhorse for the first round.

Player Comparison: Tony Brown

. Brown is a one-gap penetrator in Tennessee; he is very quick, has great hands, but struggles when teams run at him.
Football fan Spot
Defensive tackle/3-4 defensive end
Penn State
6-5 305
40 time (projected): 5.06
Overall prospect rank: #30
Overall defensive tackle rank: #4
Overall rating: 84*
College career highlights:
First-Team All Big-Ten (2008)
10/17/09: Jared Odrick moves extremely well for someone of his size and gets after the quarterback with a great motor and great tenacity. He has 4 sacks already in this young season through only 5 games. His agility and his motor make him a perfect fit for 3-4 defensive end because he both has size and the ability to get off the edge and create pressure on the quarterback. He can play some 4-3 under tackle as a one gap penetrator. He doesn't have elite size and could be stronger against the run, but when paired with a bigger guy in the middle, he can create a lot of pressure and havoc in the backfield, both tackling running backs for a loss and getting after the quarterback. Does not have the strongest initial burst and does not always play with the correct leverage. He won't fit in all schemes. He'll fit most 3-4 schemes, but not most 4-3 schemes because he is a liability against the run for his position. However, he will have an extremely important role in the NFL as a 3-4 defensive end, as more teams are switching to the 3-4, and as a one gap penetrator in certain schemes such as zone schemes and cover 2 schemes.
NFL Comparison: Jovan Haye
NFL Draft Bible.com
Anonymous Scout: The interior lineman takes away the inside from running backs and forces the play outside. Odrick single-handedly blows up the opposition's running game by taking up two and sometimes three defenders freeing up space for his teammates to make tackles.

2009 Preseason: Last season Odrick emerged into one of the nation's top defensive linemen with 41 total tackles, 9.5 for loss, and 4.5 sacks. His 2007 season was cut short by ankle and hand injuries, so he had a lot to prove last season. Odrick has great size a 6'5 306, and almost always commands double teams, which allows other players to make plays (see 2009 first round pick Aaron Maybin). He plays the run well, but also has the ability to rush the passer, and can both inside on the edge. He is a hard worker and doesn't take plays off.
Big Board Rankings (1/29)
Draft Board Insider 39
Drafttek.com 29
ESPN's Scouts INC 32
Where the Mocks have him fallen (closer to the draft)
Bartolis Summary and Final Verdict
Jared Odrick is a very quick and hard working defensive tackles who could make some serious plays at the next level, but he can also be overwhelmed at times in the run game.  Odrick may be best suited to play a in Tampa 2 coverage system for the New York Giants (and even though Perry Fewell has not declared that's what the Giants will run, I have a feeling the Giants will showcase a lot of Tampa-2 coverage).
Odrick is a borderline first round pick.
Final Verdict
I've said time and time again that Jerry Reese has a penchant of drafting players from big time schools in the first two rounds. Jerry Reese has (thankfully) not focused on one area of his drafting either though. He's drafted a 2 WR's, 2 CB, A safety, lb, OT in the first two rounds since 2007. Basically he drafts the Best player available.
If Odrick is available in the second round he WILL Be the best player available and should be drafted by the Giants. If the Giants draft him in the first round, it would be a bit of a reach, but you shouldnt' be greatly dissapointed. There is much better value at pick #15, but the Giants could find themselves a hard-working, talented prospect in the 2010 draft in Jared Odrick. And anytime you get that you can't be too dissapointed (but to emphasize, I think the Giants should NOT consider him at 15…either later in the first round or even move up some in the second round).
Previous Prospect Profiles
ILB Brandon Spikes
ILB Rolando McClain