The 2011 NFL Draft is just 12 days away, folks. This is the third part of a seven series installment in which each pick for each round of the Giants' will be profiled. I predicted the Giants' would draft Jason Pierre-Paul, Mitch Petrus and Dennis Landolt (UDFA) last year. I had some wrong, too. I had James Starks going to them in the fourth round, but he didn't.
With the 83'd in the 2011 NFL Draft, the New York Giants' select:
Mason Foster, OLB, Washington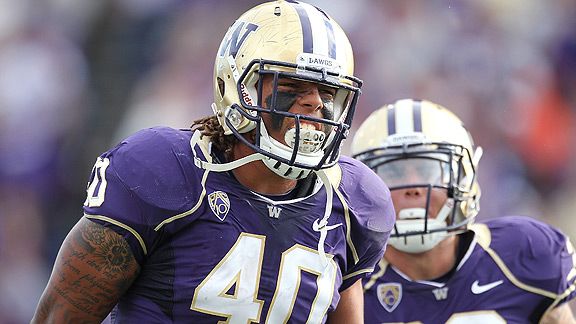 If Mason Foster is still on the board at pick 83, I think you'll see Perry Fewell drool. Foster has experience playing all three (SAM, MIKE & WILL) linebacker positions, which means he has the ability to be spread out all across the field. One thing I love about Foster is all reports say how great of a leader he is, something the Giants' lack in the linebacking area. He has a high motor and it never seems to stop. Had tremendous production in his senior season racking in 162 tackles with 6.5 sacks. He still needs improvement in coverage, which could be a reason he doesn't see much of the field right away. Ran a respectable 4.75 forty, but an impressive 1.59 10-yard split. I still think at the end of the day, Foster will be an inside linebacker, but his experience can allow him, at times, to play all over the field, something the Giants would love. I don't know if he's there at 83, his stock seems to be rising. If he isn't there options at 83 could include running backs such as DeMarco Murray, Daniel Thoman or a Taiwan Jones. They could look for a TE such as Luke Stocker or even Lance Kendricks. That's just the offensive side of the ball. Other options could inculde a safety or a defensive tackle.
The current linebacking guys the Giants have just wont cut it. Right now, you have two starters in Jon Goff and Michael Boley. Goff needs to continue to improve. Keith Bulluck was a stop gap guy, he won't be back next season, and Clint Sintim couldn't crack the starting rotation. He also will be coming off a torn ACL, which means he probably won't be the same this year. Chase Blackburn is a special teams guy, and Gerris Wilkinson is a free agent, who could be brought back to compete and be a specials guy, too.
The last time the Giants' took a LB was last year in the 4th round when the took Phillip Dillard.
First Round Pick (19) Mike Pouncey
Second Round Pick (52) Ras-I Dowling
Third Round Pick (83) Mason Foster