The last two years I've been able to nail a pick or two the Giants ended up selecting, however, this year I don't have such a great feel for the draft. I'm not sure why, but like always, let's go for it. I'm sure by the time draft day happens, I'll end up changing this pick a few times, but here is round 2:
Round 2: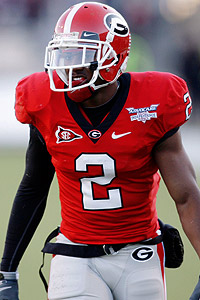 Georgia CB Brandon Boykin 
The Giants will likely be in the market for some corner depth in the draft, and Boykin could very well be a guy who takes over from day 1. Although a bit undersized, Boykin could help in the secondary. Boykin could also bring dynamic return abilities to the team, as he had 5 career return for touchdowns at Georgia.
The Giants will ideally use CB Terrell Thomas a ton in the slot this year, a position he loves to play, but coming an ACL injury, you can't put all your cards in his basket, either. Boykin loves to play the slot corner and could pitch in at times when Thomas needs a spell, or in the event that he isn't 100%.
Boykin is athletic, and ironically, reminds me of former Giants CB Aaron Ross coming out of college a bit. Very athletic, good return skills, but not very instinctive. Another thing the Giants will love about Boykin is his versatility, something DC Perry Fewell loves. Boykin can play corner in man schemes or zone schemes.
Here's what our Jeremy Fuchs had to say about Boykin: "Brandon Boykin is a smallish cornerback prospect. Very experienced. Good tackler for his size. Physical. Can play in press, man or zone. Very speedy and can stay with most wide receivers. Also a dynamite returner. The size is a bit worrisome, and he could stand to add a few pounds, but you have to love his physicality and explosiveness. Willing to get involved. 2nd round pick. The Giants generally like taller corners. Boykin isn't tall. But, as a slot corner who can stay with the quicker receivers, he's not a bad option. Plus, he's one of the best returners in the draft, and we know how much of a need that is. The Giants need corner depth, with Aaron Ross potentially leaving and Terrell Thomas a unknown coming off his second knee surgery. Boykin would provide depth behind Webster and Prince. His return ability is a bonus. His size is a bit of a concern, and something a bit anti-Giant, but I think Boykin would be an exception. He's very talented, has speed to burn and can contribute right away on special teams."
Another name to remember here: Trumaine Johnson, CB/FS, Montana – The Giants like Johnson, and he is very versatile, which is something they love. However, I don't see Johnson left on the board by the time the Giants are on the clock. Never know, though.
First Round Selection: C/G Peter Konz, Wisconsin