The last two years I've been able to nail a pick or two the Giants ended up selecting, however, this year I don't have such a great feel for the draft. I'm not sure why, but like always, let's go for it. I'm sure by the time draft day happens, I'll end up changing this pick a few times, but here is round 3:
Round 3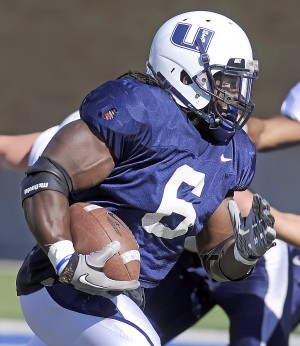 Utah State RB Robert Turbin
This pick would be my favorite pick of the entire 2012 NFL Draft. I love Turbin. I think he would be the ideal fit for the Giants and he would not only replace RB Brandon Jacobs, but he would be an upgrade.
Although at times injured, which is a reason his stock isn't higher, Turbin is a powerful back who can plow over defenders and gain the tough yards needed. Turbin won't be a starting back in the league, but he is the ideal spell back for Bradshaw. When – or if – Bradshaw is injured, Turbin could carry the load for a game or two.
I'm not entirely sure the Giants would take a back this early, but Turbin is a perfect fit for what the Giants like to do in the backfield. They like to use multiple backs who possess different skills. Bradshaw is the powerful, quick, shifty back who can be the home-run guy. He also can catch out of the backfield. Jacobs used to be the powerful spell back who could leave defenders bruised and set a tone. Then they had a third-down back like Ware who can block well and catch out of the backfield. Turbin could be what Jacobs was right away, and heck, he might even be better.
Here's what our Jeremy Fuchs had to say about Turbin: "Robert Turbin is a big, physical running back prospect. Good size. Powerful. Patient. Can wear down defenses. Good out of the backfield. Not an outside runner, more of a powerful, inside runner. Not a feature back, a complimentary back. 3rd round. I really like Turbin. Has a lot of potential. Obviously played mid major competition so that will be a jump. But with Jacobs gone, Turbin is someone to consider. Turbin can wear down defenses and would be a nice change of pace back to Bradshaw. When pairing backs, want someone who does the opposite. Turbin is opposite to Bradshaw. And that's good. Lots of people are high on Turbin; add me to that list. In the third round, he would look great in Blue."
Other Name to Consider Here:
1) Ladarius Green, TE, Louisiana-Lafayette – A player the Giants have looked at closely. Wouldn't surprise me if he's the pick here. The Giants think he is a bit of a project player, but they love his blocking ability, and that's the #1 thing for a TE for them.
First Round Selection: C/G Peter Konz, Wisconsin
Second Round Selection: CB Brandon Boykin, Georgia