The last two years I've been able to nail a pick or two the Giants ended up selecting, however, this year I don't have such a great feel for the draft. I'm not sure why, but like always, let's go for it. I'm sure by the time draft day happens, I'll end up changing this pick a few times, but here is round 4:
Round 4 (Pick 1)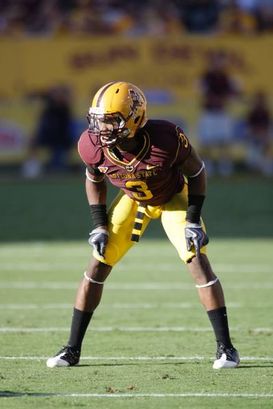 CB Omar Bolden, Arizona State 
Here's a name some of you Giants fans might remember recently. That's because Bolden worked out and visited the Giants just a week ago. The Giants seem to like Bolden and have some serious interest in him.
Bolden is coming off an ACL injury, which is likely why the Giants brought him in to check him out medically. If they like what they saw, they'd be getting a steal. Bolden was highly regarded before his injury. I know have the Giants going with a CB in round 2, but if they don't maybe they look at Bolden here. Heck, I could see them taking two corners this draft. You can never have enough cover guys, either.
Bolden has smooth, fluid hips and can turn and run with receivers. He's a tremendous tackler, which is something the Giants love, too. Bolden has the skill set to eventually become a starting NFL corner. Needs to get a bit stronger, but overall, you can't complain with him here.
Another Name to Watch Here:
1)Derek Wolfe, DE/DT, Cincinnati – The Giants love his versitlity. He could replace DE Dave Tollefson.
Round 4 (Pick 2)
DE Jake Bequette, Arkansas
 You're looking for a guy to come in right away and fill in DE Dave Tollefson's role right away? Bequette's your guy. He reminds me of exactly what Dave Tollefson was. A player with a tremendous motor who had a limited skill set, but did what he was asked to do and then some. Never gave up on a play, and played each down like it was his last.
Bequette is very grounded; he won't overrun plays and is very disciplined. He could come in right away and challenge DE Justin Trattou for playing time next season, too. He was very productive in college, having 31.0 tackles for loss, 23.5 sacks and 8 forced fumble. He also led the SEC in sacks in 2011.
Here is our own Jeremy Fuch's thoughts on Mr. Bequette: "Jake Bequette is a strong, experienced defensive end. Good size at 6-5. Pretty quick. Not necessarily powerful, despite his size.Was making plays behind the line in college. He's not too athletic, and that will hurt him. But he is a productive, experienced defensive end who could probably slide inside. Strikes me as a rotation guy who can play all over and fill the Dave Tollefson role. Middle round guy who can get a push in the pass rush, as well as make plays in the run game. Would be very happy with him in the 4th or 5th round. Has the experience to play right away."
Other options the Giants will consider here:
1) Senio Kelemete, G/OT, Washington – An offensive linemen who can play both tackle and guard. Something the Giants covet.
First Round Selection: C/G Peter Konz, Wisconsin
Second Round Selection: CB Brandon Boykin, Georgia
Third Round Selection: RB, Robert Turbin, Utah State
Fourth Round Selections: CB Omar Bolden, ASU & DE Jake Bequette, Arkansas